Technology has become an integral aspect of our everyday lives. From the internet to the smart grid, and health care to transportation, technology standards are used in a variety of ways. IEEE standards enable many of these technologies, as well as those that have helped people cope with the COVID-19 pandemic and come together virtually in the time of a global pandemic.
As an example, let's look at IEEE 802.11™, one of the IEEE standards for Wi-Fi. It creates a framework that enables a wide variety of devices from different vendors to communicate with one another. This standardized interoperability allows people to use their favorite devices and applications, such as FaceTime or Skype, with any Wi-Fi access point.
"From the local coffee shop to the International Space Station, the standards produced by the IEEE 802 committee dramatically influence our everyday lives and will continue to do so," said Paul Nikolich, Chairman of IEEE 802. "Many things we fundamentally rely upon – email, for example – would not be as broadly available or as dependable without the IEEE 802 Network Standards."
In fact, IEEE standards have brought about many great evolutionary leaps that we rely upon but might not immediately recognize in our daily lives.
Using Standards to Help Mitigate the Spread of COVID-19
IEEE standards also are helping doctors and their patients fight COVID-19 and chronic conditions such as COPD.
The IEEE 11073 family of standards enables connected medical devices, such as pulse oximeters, to communicate with other hardware, such as PCs, tablets, mobile phones, and telemedicine equipment. This plug-and-play interoperability frees health care providers and their patients to focus on treatment rather than wondering whether one manufacturer's device will communicate with another's.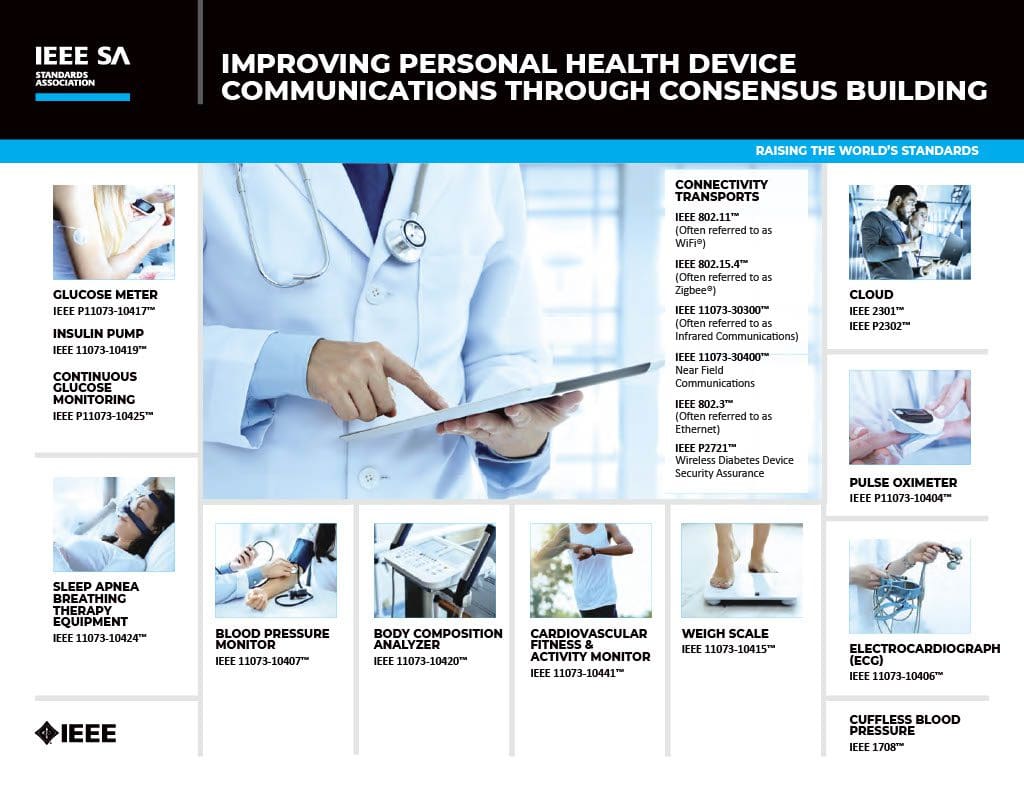 "By the time patients have noticeable trouble breathing and present to the hospital with dangerously low oxygen levels, many will ultimately require a ventilator," he wrote in April. "Pulse oximeters helped save the lives of two emergency physicians I know, alerting them early on to the need for treatment. When they noticed their oxygen levels declining, both went to the hospital and recovered."
The same advice is already being applied to a variety of other conditions, such as home health management of diabetes and high blood pressure. For example, the IEEE 11073 family includes P11073-10426. This standard defines the communication framework that enables interoperability between personal respiratory equipment and devices such as PCs.
Another IEEE 11073 example is P11073-10406. This standard enables plug-and-play communications between devices such as PCs and ECG devices so health care providers can remotely monitor their patients' heart health. As with pulse oximeters, this data can identify emerging conditions before they escalate.
IEEE standards are also helping to speed up drug development. Today, there are dozens of platforms, scripts, and tools for analyzing genome data. This creates challenges for exchanging all of the key information that other researchers, as well as regulators such as the FDA, need to understand the results and replicate the tests. IEEE 2791-2020 provides clinicians, researchers, and others with a framework for sharing genome data analysis methods. This "information interoperability" helps them quickly and effectively respond to emerging pandemics such as COVID-19.
Connecting the World Through IEEE Standards
More than ever, the world is in need of better connectivity. In addition to Wi-Fi networks in offices and home offices, IEEE 802 also enables wired local area networks (LANs), such as those that connect desktop PCs to the shared printer down the hall. Another example is metropolitan area networks (MANs), which use IEEE 802 to connect office buildings to one another.
It is estimated that more than 98% of all Internet traffic crosses one or more IEEE 802 networks during its transmission. Without IEEE 802 standards to build upon computer-to-computer connections, simple email, Internet access, World Wide Web, and mobile broadband would not have been possible to the extent we see today. IEEE 802 standards are undeniably an essential foundation of today's networked world.
In the case of videos, you might want to listen to the audio with high-quality speakers for lifelike sound, or with a headset for intimacy. There's a good chance that those connections will be provided by 802.15™, one of the IEEE standards for Bluetooth.
If you prefer a wired connection, one option is Firewire®. IEEE 1394™ provides the foundation for that by defining the serial buses that connect computer systems and peripherals. Another example is the IEEE standards for Ethernet, including 802.3. The IEEE Standards Association is currently developing a next-generation 802.3 standard that will enable speeds beyond today's 400 Gbps maximum. That's key for providing homes and businesses with the throughput they'll need for tomorrow's bandwidth-intensive applications, such as 8K video.
Streaming is another way that people are coping with quarantines and lockdowns. IEEE 2200™ helps by providing a framework to support content delivery to portable devices such as tablets and storage hardware such as home media servers.
How Standards Help Staying Safe and Green at Home and on the Road
All of these home health, entertainment, and other devices require electricity. IEEE standards play a key role there, too. For example, IEEE 1547-2018 includes a framework for connecting renewable energy sources and storage systems with the electrical grid, allowing your home and community to be greener and more sustainable.
When the electricity reaches portable devices such as tablets, the role of IEEE standards doesn't end. IEEE 1725 is the rechargeable battery standard, covering aspects such as the quality and reliability of lithium-ion and lithium-ion polymer batteries.
When the pandemic is finally over, people will want to hit the road for concerts, vacations, and to see friends and family. A growing number of those trips will be in electric vehicles (EVs). Over 3.7 million were sold worldwide over the past two years.
That's an impressive amount, considering that many people hold off buying an EV because they're concerned about running out of power before they can get to a charging station. Other common concerns include how long charging takes and whether a public charging station will be compatible with their EV model. Meanwhile, electric utilities are concerned about their ability to support the exponential increase of EVs each year.
IEEE standards are helping consumers and utilities overcome these challenges. IEEE 2030.1.1 supports ultra-rapid charging up to 400 kW. Faster charging also means each station can support more EVs because they're in and out in less time. Manufacturers also can use the IEEE 2030.1.1 DC Quick Charging Test Suite Specification to verify that a charger meets the standard's voltage resistance properties.
A final example is applicable to safety in most vehicles. IEEE P1858 provides image-quality standards that mobile operators, smartphone operating system vendors, handset manufacturers, chipset vendors, software providers and test labs use to enable apples-to-apples comparisons between different products. Automotive manufacturers also use P1858 in vehicle cameras for applications such as crash avoidance, lane keeping, and backup safety. The higher the image quality, the better drivers and artificial intelligence (AI) can be at avoiding accidents and other problems.
In crises and normal times, IEEE standards play a key role in keeping people connected and safe, helping the lights stay on and providing doctors with powerful new ways to provide care. That makes them a fundamental part of our work, life, and play. Learn more about IEEE standards and explore opportunities to participate in IEEE SA's activities across the world.